Amberwell's certified registered nurse anesthetists (CRNAs) are proud to be among the 54,000+ CRNAs from across the country providing anesthesia care, comfort, and compassion to patients. During CRNA Week, our CRNA team reflected on the impact Amberwell has on the communities we serve.
"Amberwell Health strives to meet the unique health challenges of our communities through a full spectrum of healthcare services," said David Hart, DNP, CRNA, NSPM-C. According to Hart, who also teaches at the University of South Florida, rural communities have unique characteristics within their populations that urban communities do not have. People in rural communities tend to have less income than those in urban areas. They are more likely to smoke more, drink more, engage in less regular exercise, and be more obese than those in urban areas. They have more frequent accidents due to farming and industrial occupations, are less likely to keep up with disease screening, and often present late with health problems. Amberwell provides access to quality, affordable healthcare which is important for any community, especially in our rural settings. When patients have to drive over an hour to see a healthcare provider, they are more likely to forgo basic healthcare services like routine checkups, screenings, and vaccinations.
These preventative measures can catch and treat illnesses early on before they become serious problems, but the cost and inconvenience of travel deter patients from addressing anything but their most urgent health issues, and, often, by then it's too late. "People should not be penalized with a lack of healthcare resources simply because they do not live in large, metropolitan areas," said Micah Reece, DNP, CRNA. Amberwell provides a diverse array of services to patients of all ages and medical backgrounds, where they live.
"It is vital to be able to receive healthcare close to home," said Rebecca Boust, MSNA, APRN, CRNA. "My daughter and I both switched providers with our recent move to Atchison as it was no longer feasible to drive over an hour each way."
"I know of patients who require treatments as often as every three days over a period of several weeks," said Hart. "They would spend unnecessary time driving to and from their appointments–not to mention the fuel expense–if they did not have access to our facilities." 
Access to Emergency Medical Services
The availability of emergency medical services has a direct impact on the quality of life in any community. "Whether you're a first-time expecting mother, or helping to care for older parents, or–like my wife and I–parents of two very active children," said Reece, "you have the emergency resources right here to help with whatever health challenges you may be facing. It's reassuring that help is just a phone call or a short drive away." 
People get peace of mind from knowing that emergency care will be available to them in Atchison if needed. In communities that do not have emergency care nearby, community members have to rely on traffic conditions and emergency medical technicians to get them where they need to go in time to get the help they need. "Our anesthesia service answers the call for laboring mothers, trauma, emergency surgeries, respiratory distress, and orthopedic injuries," said Hart. "The additional time expended to drive to the closest healthcare facility puts undue stress on family members and could possibly affect the outcome for those needing urgent care."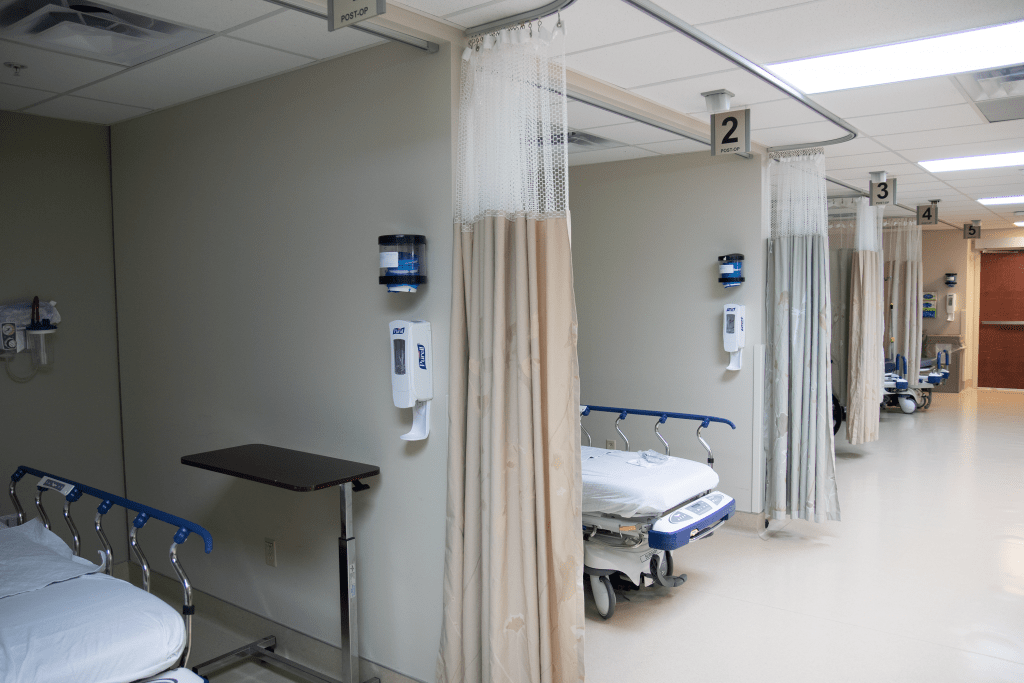 Access to Health Education Programs
Healthcare facilities often provide educational events within the community such as childbirth education classes, community health fairs, and other programs that put members of the community in direct contact with healthcare professionals. There are times when a person might not make an appointment to see a provider, but he will ask questions or pick up information in more casual settings. This can lead to getting lifesaving screenings and treatments. "At Amberwell, we have Childbirth Education Classes, hold community health fairs, and other community-focused programs to raise awareness about common health issues that are often treatable and preventable with early detection," said Boust. In many cases, early detection and treatment save time, money, suffering, and lives.
Living and Serving in Atchison
Our CRNAs have discovered that Atchison is not only a great place to serve, but also a great place to live and get involved. Hart moved to Atchison with his family in 2013, and over the years has been active with Theatre Atchison, the Humane Society of Atchison, and the Atchison Art Association. "We've met other volunteers that quickly became friends," said Hart. "We look forward to offering our time, muscle, and charity to these nonprofit organizations." Boust and Reece moved to Atchison during COVID-19 but have still been able to experience a lot of what Atchison has to offer. 
This group enjoys the fact that they don't have to go outside Atchison for entertainment. They go to the movies at Fox Theatre Atchison, go to plays and comedy shows put on by Theatre Atchison, visit the Atchison Farmers Market on Saturday mornings, and channel their inner artists with wine, painting, and papier-mâché at the Artist Box. They love frequenting local restaurants and shops and appreciate being able to get their everyday needs met locally, including car maintenance, pet grooming, and haircuts.