The physicians, nurses, and other medical professionals of the Amberwell Maternal Care team believe that each childbearing experience is unique. They work in partnership with each woman to ensure that her individual needs and preferences are met from early pregnancy through the birth process.
Amberwell Atchison offers free pregnancy tests. This free service is available for all members of our communities, even if you aren't an Amberwell patient.
It's a comfort to confirm your pregnancy results with our experienced maternal care team, even if you've taken an over-the-counter pregnancy test. We'll review the results with you, answer any questions you may have, and offer guidance for your next steps.
Free pregnancy tests are offered Mondays through Fridays between 8:00am and 4:30pm at Amberwell Atchison. Call 913-565-9559 to schedule an appointment. Walk-ins also welcome.
High 5 for Mom & Baby Recognition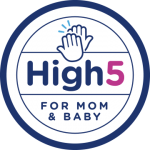 Amberwell Atchison is a facility you can count on to provide evidence-based maternity care that supports a mom's breastfeeding goals. We're proud to support mothers and babies by following the practices. Learn more about the program here: https://high5kansas.org.
For more information about our breastfeeding support, please call Maternal Care at Amberwell Atchison at 913-360-5350.

Childbirth Education Class
Enroll today for a free childbirth education class for mothers delivering at Amberwell Atchison. Fathers or labor coaches are welcome (not limited to first pregnancy).
The physicians below perform deliveries at Amberwell Atchison.