The Amberwell Health Scholarship Program was created to recruit exceptional individuals to serve patients in our communities.
Amberwell seeks to support individuals pursuing progressive careers in healthcare.
At the conclusion of their qualifying educational programs, scholarship recipients will serve as employees of Amberwell Health and join in our commitment to improve the health and wellness of the rural communities that we serve.
Application Process
To be eligible to apply for the scholarship program, individuals must be enrolled in or plan to enroll in a covered educational program.
Acceptance is based on the qualifications of the candidate and the recruiting needs of the organization. Candidates will be chosen based on their desire to work in rural health, letters of recommendation, and personal interview.
Applications must be submitted online. A representative will contact qualifying applicants to proceed with the interview process.
Scholarship availability may vary based on the current and anticipated organizational needs for specific positions.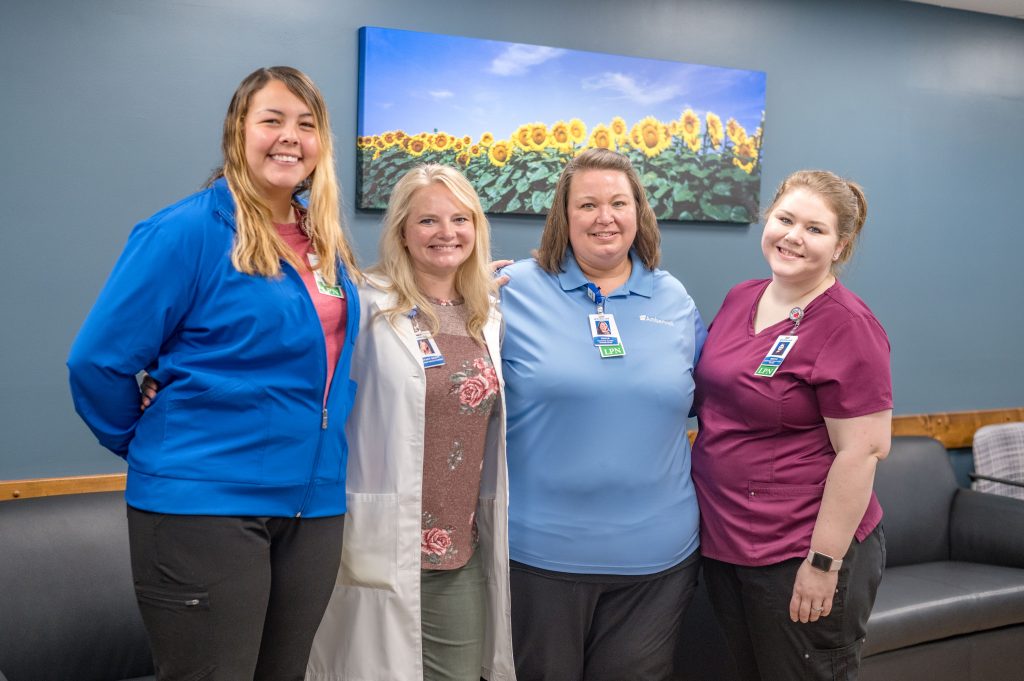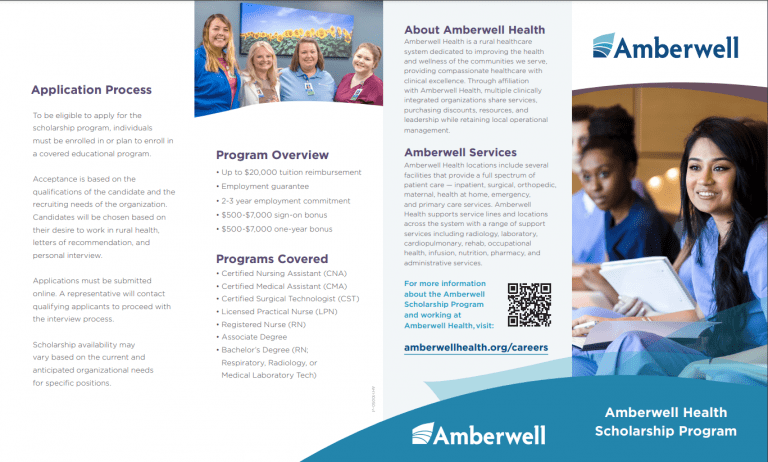 Program Overview
Up to $20,000 tuition reimbursement
Employment guarantee
2-3 year employment commitment
$500-$7,000 sign-on bonus
$500-$7,000 one-year bonus
Programs Covered
Certified Nursing Assistant (CNA)
Certified Medical Assistant (CMA)
Certified Surgical Technologist (CST)
Licensed Practical Nurse (LPN)
Registered Nurse (RN)
Associate Degree
Bachelor's Degree (RN; Respiratory, Radiology, or Medical Laboratory Tech)
Program Details
TUITION REIMBURSEMENT
Scholarship recipients will receive reimbursement towards tuition costs, books, and fees for each semester covered by their scholarship. At the conclusion of each semester, recipients will submit a report of applicable fees paid during that semester. Reimbursement will be paid upon verification of successful completion of course work, with a C or above in required courses. The reimbursement will be paid upon verification of successful completion of course work each semester.
EMPLOYMENT GUARANTEE
The acceptance of a scholarship guarantees the recipient employment within Amberwell Health upon successfully completing their educational program and obtaining any applicable licenses or certifications. The department and location of employment will depend on positions available at the time of program completion.
EMPLOYMENT BONUSES
Scholarship recipients will receive a sign-on bonus at the start of their employment and an additional bonus at the completion of one year of employment from the date they complete their orientation. Bonus timing may be altered on a case-by-case basis with approval from the CEO.
EMPLOYMENT COMMITMENT
Students who participate in the scholarship program are required to complete an employment commitment, which varies based on scholarship type. The commitment begins on the first day of employment after the educational program is complete. Failure to complete the period of commitment will result in the recipient's repayment of any bonuses and scholarship funds received at a prorated rate based on time worked. Employment opportunities at Amberwell may also be available during your educational program, but will not count toward the employment commitment of the scholarship program.
CERTIFIED NURSING ASSISTANT (CNA)
Reimbursement for full program costs, up to $850
$500 sign-on/$500 one-year bonus
2-year employment commitment

CERTIFIED MEDICAL ASSISTANT (CMA); CERTIFIED SURGICAL TECHNOLOGIST (CST)
Reimbursement for diploma or certification, up to $7,000 for program
$3,000 sign-on/$3,000 one-year bonus
3-year employment commitment
LICENSED PRACTICAL NURSE (LPN)
Reimbursement for full program costs, up to $5,000/semester and $10,000 for program
$3,000 sign-on/$3,000 one-year bonus
3-year employment commitment
ASSOCIATE DEGREE PROGRAMS (RADIOLOGY, RESPIRATORY, MEDICAL LABORATORY, OR SURGICAL TECH)
Reimbursement for AD program,
$5,000/semester and $20,000 for program
$5000 sign-on/$5000 one-year bonus
3-year employment commitment


REGISTERED NURSE (RN)
Reimbursement for LPN-ADN bridge program costs, up to $5,000/semester and $10,000 for program
Reimbursement for ADN program costs, up to $5,000/semester and $20,000 for program
$5,000 sign-on/$5,000one-year bonus
3-year employment commitment


BACHELOR'S DEGREE PROGRAMS (RN; RESPIRATORY, RADIOLOGY, OR MEDICAL LABORATORY TECH)
Reimbursement for junior/senior year costs, up to $5,000/semester and $20,000 for program
$7000 sign-on/$7000 one-year bonus
3-year employment commitment