What to join a dynamic, fun-loving group of volunteers? Do you have a smile to share? Want to help provide needed support for our community? Then please consider sharing your time, energy, skills, and smile to make a difference at Amberwell Atchison. 
Volunteering at Amberwell Atchison has been a community tradition since 1957. Amberwell Atchison offers services for adult volunteers as well as opportunities for students ages fourteen to eighteen years old in the Junior Volunteer Program. Both programs contribute more than 115,000 hours of service yearly to the Sunflower Gift Shop, the Twice is Nice Thrift Shop, Mail Delivery, Surgery Hospitality, Information Desk, Arts and Crafts, and other fundraising activities.
All programs require an application, an interview, a tuberculosis skin test, and completion of orientation. Volunteer opportunities involve varying levels of skill, challenge, and involvement. Hours and days are flexible and the training provided. Most positions require a commitment of two to four hours per week.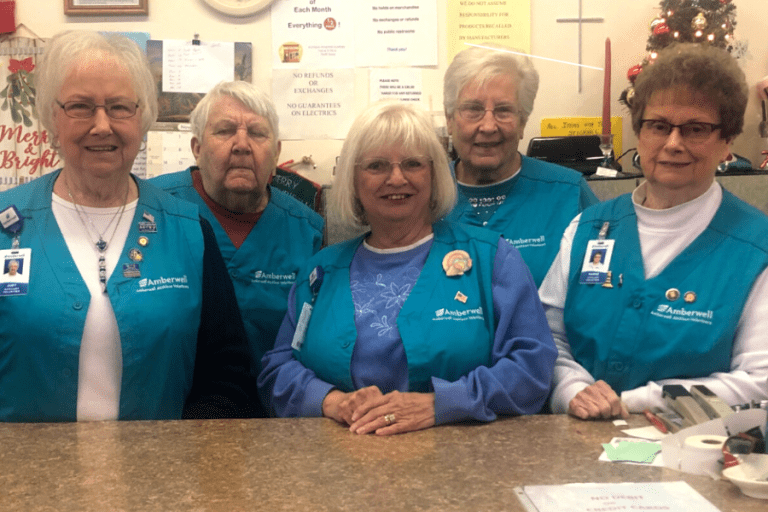 Let us help you find the perfect fit
We would love to introduce you to our many programs and the numerous opportunities available to you as a Volunteer member at Amberwell Atchison.
The Sunflower Gift Shop is available to visitors and employees Monday through Friday, 9am to 4pm for unique gifts, snacks, and cards. We would love to have you stop by.
Annual fall craft and bake sale
Annual Volunteers' Golf Tournament held in the spring to provide funds to purchase additional hospital equipment
"Twice Is Nice" Thrift Shop
The Volunteers' gift shop on Commercial Street offers clothing and household items at great savings to area residents. Open Mondays and Thursdays, 9am to 5pm, and during the summer months, Saturdays from 9am to 12:30pm.
We welcome your participation in any of our wonderful volunteer positions. Your smile is the most important skill you need to be a volunteer!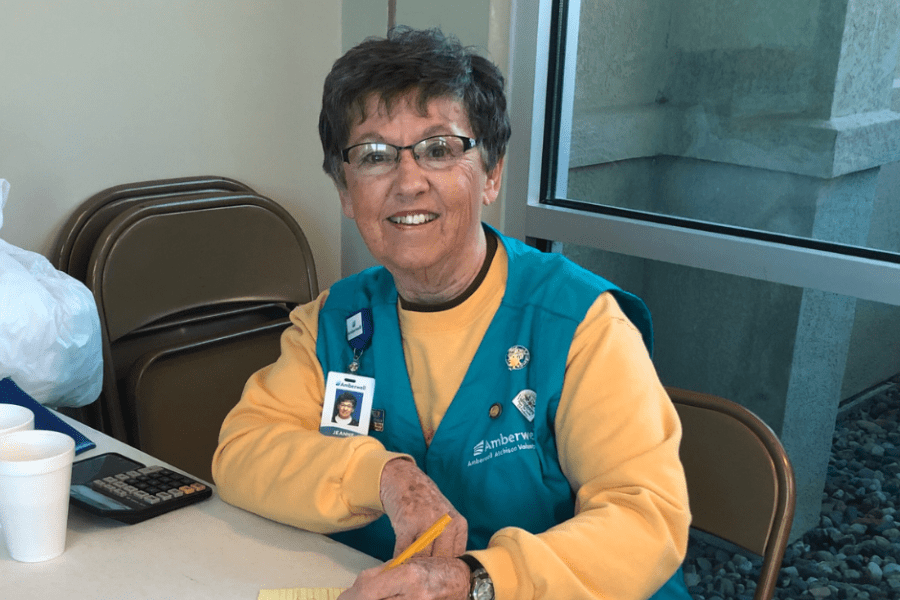 We want to invite you to make a big difference: become a volunteer
Bake sale
Blood drives
Golf tournament
Lobby information desk
Sunflower Gift Shop
Surgical waiting room
Healthcare scholarship program
"Twice Is Nice" Thrift Shop
Community involvement
To make life more significant through unselfish services to others.
For more information, contact Karen Falk at (913)-360-5586.
Click here to download the Amberwell Atchison Volunteers Application. This form can be printed off and mailed to Karen Falk, 800 Raven Hill Drive, Atchison, KS 66002.