Occupational health services serve businesses in the communities throughout the northeast region of Kansas, as well as areas in Nebraska and Missouri.
Our goal is to help all of our clients keep their workers safe, well, and productive by partnering with them and designing programs to meet specific needs.
At Amberwell, we have access to radiology, laboratory, and rehabilitation services. We are also privileged enough to have a wide-range of specialty physicians available to us, including orthopedic surgeons for advanced care.
Clinical Services
On-Site Services
Hearing Conservation
Respiratory Protection
Flu Vaccinations
Occupational Health Services Appointment Information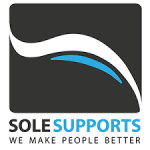 What is an orthotic?
"An orthotic is a supportive device which is placed inside footwear, to change the mechanical function of the foot. It works dynamically during weight-bearing activities like walking, running and standing. 
Who needs orthotics?
Anyone who is experiencing faulty foot mechanics may be in need of orthotics. 
Conditions that may benefit from custom orthotics:
Bunions
Plantar fasciitis
Heel spurs
Knee pain
Back pain
Hip pain
Occupational Health Services exclusively uses Sole Supports for our foot orthotics.