At Amberwell, we believe in the power of technology to transform patient care.
With cutting-edge technology, we can uncover a new dimension of precision, enabling accurate diagnoses and personalized treatment plans.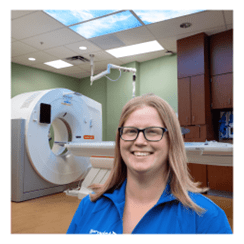 Amberwell Atchison was able to make significant investments in state-of-the-art medical equipment recently, thanks to an ARPA grant from the City of Atchison as well as the effectiveness of the Amberwell shared services model that leverages collective purchasing power, negotiates advantageous contracts, and secures substantial cost savings. These savings can be strategically reinvested into infrastructure improvements, including acquiring advanced medical equipment that empowers physicians and healthcare professionals to deliver the highest standard of care.
This new radiology equipment represents a significant milestone in Amberwell's efforts to improve healthcare outcomes and elevate the standard of diagnostic imaging in the Atchison area. This technology harnesses the latest advancements in radiology and imaging and brings a host of tangible benefits to our patients, physicians, and especially to the broader community.
Benefits of our investment in new radiology equipment:
Superior Diagnostic Accuracy: The advanced features of the new radiology equipment empower our radiology team to acquire highly detailed images which aid in more accurate and precise diagnoses. The enhanced image quality, increased resolution, and improved contrast provide a comprehensive view of the patient's anatomy, enabling early detection of diseases and conditions that may have been previously missed.
Reduced Radiation Exposure: Patient safety is our utmost priority. The new radiology equipment is equipped with innovative dose-reduction technologies, minimizing radiation exposure without compromising image quality. This ensures that our patients receive the highest level of care while minimizing potential risks associated with radiation.
Faster Turnaround Times: The efficiency of our diagnostic imaging services will be greatly enhanced by the new equipment. Its advanced imaging algorithms and streamlined workflow enable quicker image acquisition, processing, and interpretation. This translates into reduced wait times for patients, allowing for expedited diagnosis and treatment planning.
Expanded Diagnostic Capabilities: Our investment in cutting-edge radiology equipment equips our healthcare professionals with an expanded range of imaging capabilities. This includes advanced imaging modalities such as 3D mammography, MRI, and Computed Tomography (CT) cardiac scans. These additional tools enable earlier detection and more comprehensive assessment of diseases, improving overall patient outcomes.