Home Health Care
As medical care changes, having the best care at home is more important than ever. As hospital stays become shorter and shorter, more technical and skilled medical procedures are being done in the home, Amberwell home health staff are highly trained to meet your needs; they are compassionate and often feel like one of the family.
Wherever you are hospitalized, be sure to ask for Amberwell Home Health when you come back home to Atchison.
Home health services often include:
Wound and ostomy care.
IV management and administration.
Lab draws in the home.
Full rehabilitation services, physical therapist, occupational therapist and speech therapist.
Medical social work to help with life planning.
Personal attendant care for bathing.
24/7 on call nurse.
Local staff able to respond quickly to your needs and an active part of the community.
We work closely with you and your doctors to determine the best plan and treatments to help regain and/or maintain your health.
Skilled Nursing
Nurses provide wound care, IV infusion therapy, pain management, medication management, breathing care, and more. Nurses also educate you and your loved ones about your illness and how to best keep your symptoms under control.
Physical Therapy
Therapists provide treatments and exercises to help you achieve more mobility. Therapists focus on your safety, pain management, and independence while promoting your balance, flexibility, and strength.
Occupational Therapy
Therapists help improve your ability to perform tasks in living and work environments. They can help you improve basic motor functions or find ways to help you compensate for lost of abilities after injury or stroke.
Speech Therapy 
Therapists treat speech, voice, swallowing disorders, and hearing issues that may affect eating or communication.
Home Health Aides
Certified nurse aides give you assistance with personal care, bathing, and help your health care team in monitor your condition.
Medical Social Workers
Social workers help find community resources to keep you safe at home, make your long-term plans, as well as find you assistance with financial matters.
Amberwell Health at Home accepts Medicare, Medicaid, and many other private insurance plans.
Medicaid & Private Insurance
Coverage varies per policy. Verification of benefits is required to begin care.
Medicare Part A
Typically, Medicare Part A policies cover 100% of the cost of home health. However, verification of benefits is required to begin care.
Qualification Appointment
Patients can qualify for insurance coverage if their physician prescribesin home care after a face-to-face appointment. If a patient is homebound, there are options to qualify for insurance-covered services through an in-home appointment.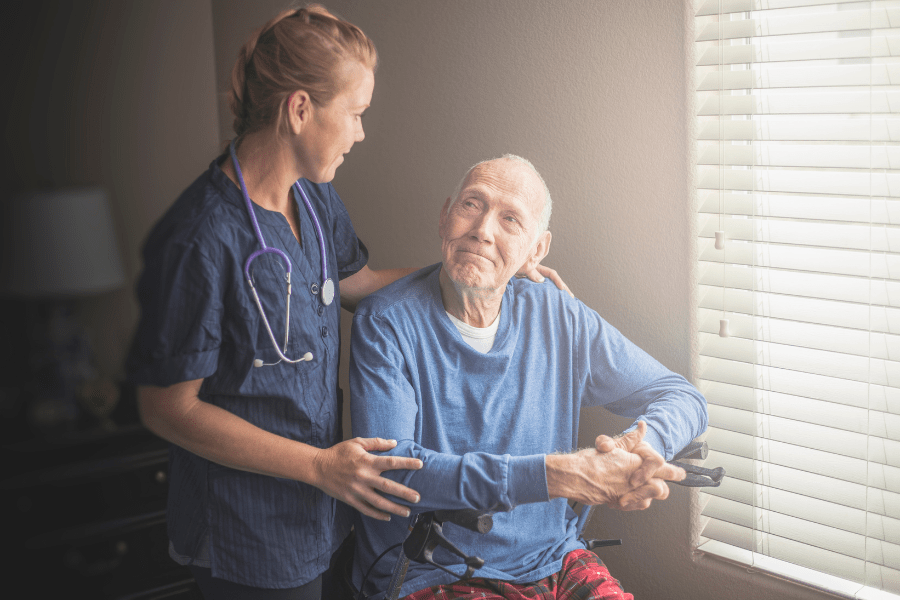 Questions
We welcome questions via phone. Please call 913-360-5520 to speak to a representative with Amberwell Health at Home.